Like this newsletter? Tell your friends to sign up here.
Questions? Comments? outbreak-popup@cnn.com
And follow all our latest updates.
Sunday, June 28
The coronavirus pandemic is far from over. Here are some key developments from the past week: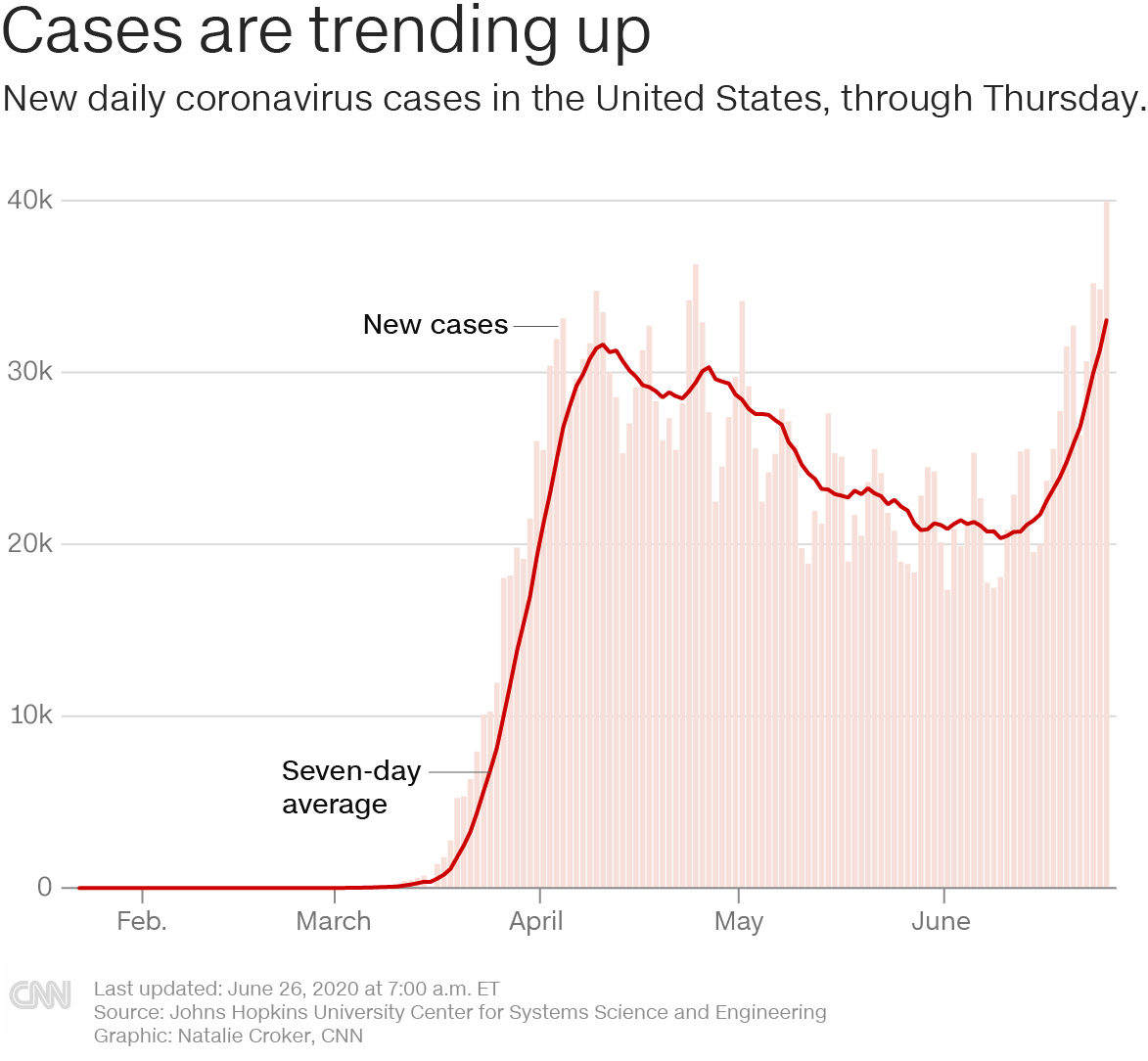 Source: Johns Hopkins University / Date: June 26, 2020
YOU ASKED. WE ANSWERED.
Q
Can I get coronavirus from swimming in open water, like a lake or seawater? What about in a public pool or hot tub?
A
It's not the water you need to worry about. It's how close you might get to other people.
"Properly maintained pool water will not be a source of spread of the virus. The chlorine that's in it will inactivate the virus fairly quickly," said immunologist Erin Bromage. "The level of dilution that would happen in a pool or an ocean or a large freshwater body would not lead to enough virus to establish an infection. But when you do this, you need to just make sure that we're maintaining an appropriate physical distance while swimming or sitting in a hot tub."
That's because it's easy for infected people with no symptoms to spread the virus if they're within 6 feet from others. If you have an indoor pool or hot tub, even 6 feet might not be enough distance.
Send yours here. Are you a health care worker fighting Covid-19? Message us on WhatsApp about the challenges you're facing: +1 347-322-0415.

TOP 5 READS FROM
THE WEEK
Welcome to the whack-a-mole stage of coronavirus

Germany is back in crisis mode. The country is trying to stop a new outbreak from turning into a full-blown second wave of infections, after hundreds of people working at a meat processing plant in the western state of North-Rhine Westphalia became ill.
It's serious, but the German government isn't rushing to reintroduce the kind of nationwide lockdown measures it used to fight the virus earlier this year. Instead, public health officials hope they will be able to contain the outbreak by introducing more nuanced local measures and going all in on testing and contact tracing.

It's a glimpse at what the new normal might look like: A perpetual game of whack-a-mole in which authorities race to contain the virus as it pops up in new places.
Pandemic still to peak in many countries in the Americas

The number of Covid-19 cases in Latin America has tripled in the past month, surpassing 2 million infections, the Pan American Health Organization said this week. Brazil alone accounts for more than 1 million of those cases — the only country besides the US that has surpassed that mark.

But the worst is probably still to come. The World Health Organization warned the pandemic has yet to peak in many countries in the region. It expects the world to reach 10 million cases next week, with many new cases coming from the Americas.

Globally, the number of infections is rising by about 1 million every week, and the WHO worries that the surge could lead to oxygen shortages as many countries struggle to obtain oxygen-making machines.

Fighting two pandemics: rape and Covid-19
At the start of each day, Dr. Anita Kemi DaSilva-Ibru and her team put on gloves, face masks and other personal protective equipment to see their patients.
They're not treating people for Covid-19. But they are on the frontline of another scourge, working at the Women at Risk International Foundation, a rape crisis center in Lagos, Nigeria.

Earlier this month, the country declared a rape state of emergency following a spate of sexual violence against women. It's a situation that has worsened as women are forced into quarantine with their abusers.
Where people haven't heard of the coronavirus
Hundreds of thousands of people trapped near violent conflicts in Myanmar's far west may know nothing of Covid-19 thanks to a year-long internet shutdown, according to rights groups.
Last June the Myanmar government, led by State Counselor Aung San Suu Kyi, cut internet access to nine townships in the area due to concerns that it was being used to inflame clashes between the Myanmar military and insurgent groups seeking greater autonomy.
Human Rights Watch and Amnesty International say the extended shutdown is putting lives at risk, not only because it's preventing people from reporting possible human rights abuses but because it has cut them off from coronavirus public health campaigns.
These nine hand sanitizers may contain a potentially fatal ingredient

The US Food and Drug Administration is advising consumers not to use hand sanitizer products manufactured by Eskbiochem SA due to the potential presence of a toxic chemical.

The FDA has discovered methanol, a substance that can be toxic when absorbed through skin or ingested, in samples of Lavar Gel and CleanCare No Germ hand sanitizers, both produced by the Mexican company. Here's a list of all nine hand sanitizers the FDA recommends avoiding.
THIS WEEK'S
TOP TIP
Earlier this year, health officials said we shouldn't wear face masks. Then they said we should. Now many are saying we must wear masks if we want to keep the economy open and save tens of thousands of lives.
Public health experts blame the mask confusion, in part, on politicians who have turned them into divisive, partisan talking points. The US Centers for Disease Control and Prevention now says everyone "should wear a cloth face cover when they have to go out in public, for example to the grocery store or to pick up other necessities."
But you wouldn't know that from listening to Trump.
Researchers say the payoff of widespread mask-wearing would be enormous. If 95% of Americans donned face masks in public, the country could prevent 33,000 deaths by October 1, according to the University of Washington's Institute for Health Metrics and Evaluation.
LISTEN TO OUR
PODCAST
Join CNN Chief Medical Correspondent Dr. Sanjay Gupta for the latest news about the coronavirus. He'll make sense of the headlines, speak with the experts and give you all the information you need to stay safe and healthy.
Listen Now
Subscribe to Coronavirus: Fact vs. Fiction Newsletter
View on CNN