Like this newsletter? Tell your friends to sign up here.
Questions? Comments? outbreak-popup@cnn.com
And follow all our latest updates.
Thursday, May 21
If the United States had begun enforcing social distancing measures just a week earlier in March, an estimated 36,000 lives would have been saved, according to new research from Columbia University.
And if the country had locked down two weeks earlier than it did, the vast majority of deaths — about 84% — would have been avoided, the research team estimated.
While the study has not yet been peer-reviewed, it is a sign of just how steep the cost of inaction was as Covid-19 raced across America. Even small shifts in timing — a matter of days — would have made a difference, preventing much of the virus' exponential growth in cities like New York, Los Angeles and New Orleans, the university found.
As all 50 states lift lockdowns to varying degrees, the researchers had these words of caution: "Now that Covid-19 is established as a global pandemic, rapid response remains essential to avoid large-scale resurgences of infections and deaths in locations with reopening plans."
And the pandemic shows no signs of abating. Infection rates are on the rise across Latin America, as restrictions ease elsewhere. The World Health Organization warned yesterday that "we still have a long way to go," after it recorded the highest total number of infections in a 24-hour period — more than 106,000. Today marks a new milestone: Global coronavirus cases have passed 5 million.
US first lady Melania Trump will take part Thursday evening in CNN's weekly global town hall on coronavirus. The town hall will air on CNN, CNN International and CNN en Español. It will stream live at 8 p.m. ET on CNN.com's homepage and across mobile devices via CNN's apps, without requiring a cable log-in. You can also watch on CNNgo, and subscribers to cable/satellite systems can watch it on-demand.
THE LATEST NUMBERS
As of 7:00 a.m. ET, May 21
Global Cases
5,016,171

Global Deaths
328,462

US Cases
1,551,853
US Deaths
93,439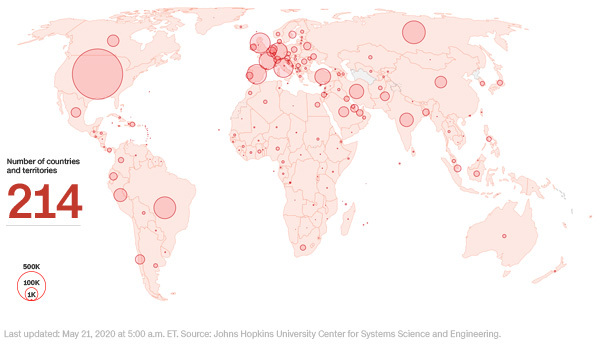 Source: Johns Hopkins University
YOU ASKED. WE ANSWERED.
Q
You've recovered from the virus. What's next?
A
"Two months ago, recovery wasn't on anyone's mind," said Dr. Reynold Panettieri, a pulmonary critical care physician in New Jersey. While most patients with coronavirus will fully recover, data from China suggest that some patients, especially those who had more severe infections, may face lasting — even permanent — damage to their bodies. To better understand these effects, Panettieri is leading a six-month study of recovered Covid-19 patients. Unlike most viral diseases, which may result in a nagging cough for weeks, Panettieri has observed that some patients have other serious symptoms that won't go away. He said this could be related to a number of factors, including how the virus affects the lungs, heart and muscles. So far, it seems overcoming the disease is only the first step in a much longer journey.

Send your questions here. Are you a health care worker fighting Covid-19? Message us on WhatsApp about the challenges you're facing: +1 347-322-0415.

WHAT'S IMPORTANT
TODAY
States are combining test results, skewing the numbers


Virginia, Texas, Georgia, and Vermont have said they've been adding two numbers to their daily totals — viral test results and antibody test results — possibly providing a misleading picture of when and where the coronavirus spread as the nation eases restrictions.
Viral tests are taken by nose swab or saliva sample, and look for direct evidence someone currently has Covid-19. By contrast, antibody tests use blood samples to look for biological signals that a person has been exposed to the virus in the past.
Combining the two types of tests overstates a state's testing ability, a crucial metric as nearly all states ease the coronavirus restrictions. Experts have consistently emphasized that for states to reopen, there has to be adequate testing and tracing.
Disasters complicate coronavirus

Catastrophic flooding in Michigan and a powerful cyclone that slammed India and Bangladesh have shown the challenges of responding to natural disasters amid the pandemic.
When a rain-swollen river breached two dams in central Michigan it sent at least 10,000 people fleeing from their homes. Officials there are now juggling two public safety crises at once, with evacuees being screened for coronavirus before entering shelters.
Cyclone Amphan, one of strongest storms recorded in the Indian Ocean in decades, hit India's eastern coast and neighboring Bangladesh yesterday, leaving thousands homeless and dozens dead as authorities raced to provide relief efforts in communities already stricken by the coronavirus. One Indian official said it was a bigger disaster than Covid-19.
Families of Italy's nursing homes victims want answers


Italian authorities are investigating a string of health violations at nursing homes across the country during the pandemic. Family members say the institutions didn't do enough to protect those in their care, and blame authorities for placing Covid-19 patients alongside the elderly.
At least 15 facilities have been closed and their patients relocated after inspections by the Italian police's health unit found that many failed to follow coronavirus protocols, including providing enough protective equipment for staff and dedicated quarantine areas for suspected coronavirus patients.
Children in Asia are going back to school

The coronavirus has set global school enrollment back four decades, as closures and recessions in many countries have hit education, according to a new report by a United Nations agency.
For the first time in three months, South Korean high school students have returned to the classroom. But it doesn't signal a return to normal — temperature checks, masks and socially distant seating are among the adjustments. The changes are not without challenges, or risk.
School is also starting in other countries in the Asia Pacific region too. In New Zealand, which has been praised for its swift approach to controlling the virus, students around the country headed back to school on Monday after eight weeks at home. In parts of Australia, children are already back; Chinese students started returning to school in March.
Why China and India shouldn't let coronavirus justify walking back climate action

Before the pandemic hit, India and China were positioning themselves as global climate leaders.
Virus lockdowns have provided temporary blue skies in cities from New Delhi to Beijing and beyond, but as India and China prepare to resuscitate their economies, experts warn doing so without environmental regard could wind back their previous good work on climate.
ON OUR RADAR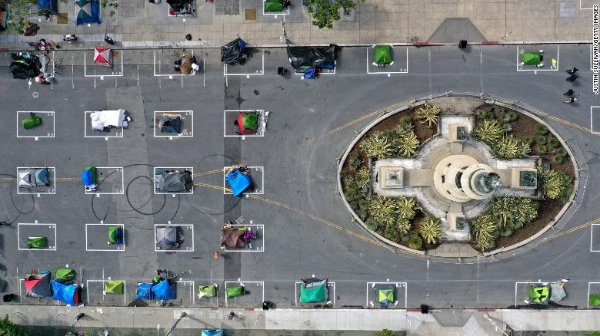 An aerial view of San Francisco's first temporary tent camp.
TODAY'S
TOP TIPS
A cup of tea makes everything better. For centuries, a hot cuppa has been used as a ritual to relax, reinvigorate and soothe — that's something we need now more than ever. Scientists are beginning to look into just how tea might affect mood and cognition. Green tea, in particular, is believed to have positive effects on our mental health. There are signs it can improve symptoms of depression, and dementia. Tea has some benefits for our physical health too — it's linked to a longer life, lower blood pressure and may also have a fat-busting effect. With tea consumption growing around the world, the United Nations has designated May 21 the first ever "International Tea Day." Call it quarantea.
FROM TODAY'S
PODCAST
"If someone is hurting you physically, choking you, spitting on you, you absolutely have a right to seek help and to not expect that that behavior is normal."
– Ariel Zwang, CEO of Safe Horizon

What happens when staying home isn't safe? On our latest podcast, CNN's Chief Medical Correspondent Dr. Sanjay Gupta discusses the impact of the pandemic on victims of domestic violence and child abuse. If you need help, call the National Domestic Violence Hotline at 1-800-799-7233 or visit their website at thehotline.org. Listen Now

Do you have a question about the #Covid19? Send a voice memo to asksanjay@cnn.com and @DrSanjayGupta might answer it on his podcast.
Subscribe to Coronavirus: Fact vs. Fiction Newsletter
View on CNN